Black Lagoon: The Second Barrage 12/12 [HD 89mb] [1280x720]
Ahora en MCAnime.net puedes perzonalizar las publicaciones de la portada a tu gusto.
Para poder perzonalizar tus publicaciones debe estar registrado y identificado.
Subido por: moderador-z - [ Ir al Tema ] -

Nombre: Black Lagoon: The Second Barrage
Nombre en Japones: ブラックラグーン The Second Barrage
Categoría: Serie TV
Género: Drama, Acción, Psicológico
Año: 2006
Estudio: Madhouse Production
Fuente: HDTV
Capitulos: 12
Audio: Japonés
Subtítulos: Español
Calidad: 1280x720
Tamaño: 70-97 MB
Codec y contenedor: MP4/x264




Sinopsis:

La serie narra las aventuras de una compañía de transportes, no muy favorecida a ojos de la ley, establecida en la ciudad ficticia de Ruananpur, en Tailandia. Se centra en el conflicto interno de Okajima Rokuro (Rock). Éste es un ejecutivo de una empresa japonesa que es secuestrado por la organización Black Lagoon, y que decide pasarse a sus filas después de ver la humillación de sus jefes y el sistema al cual pertenece. Cerca de él se encuentra Rebeca (Revy "Two-Hands"), una joven china-americana muy buena con el manejo de armas pero bastante intolerante; ella protegerá a Rock a pesar de todo los sucesos que se presentan. Los acompañan Dutch, el jefe de Black Lagoon, y Benny, un experto en informática y sistemas de comunicación.


Spoiler:

Descarga:

01 - Black Lagoon: The Second Barrage


02 - Black Lagoon: The Second Barrage


03 - Black Lagoon: The Second Barrage


04 - Black Lagoon: The Second Barrage


05 - Black Lagoon: The Second Barrage


06 - Black Lagoon: The Second Barrage


07 - Black Lagoon: The Second Barrage


08 - Black Lagoon: The Second Barrage


09 - Black Lagoon: The Second Barrage


10 - Black Lagoon: The Second Barrage


11 - Black Lagoon: The Second Barrage


12 - Black Lagoon: The Second Barrage
Ver online
Imagenes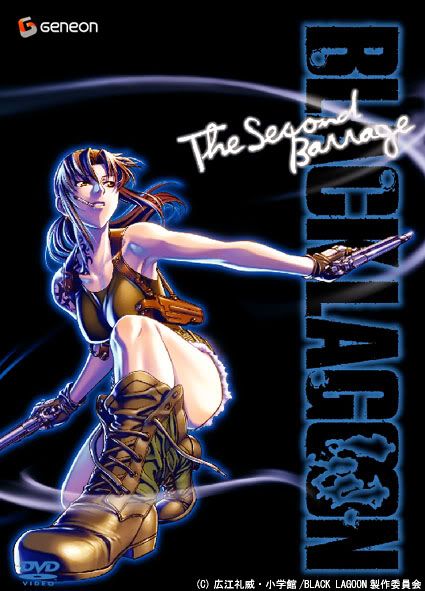 Animes en estrenos